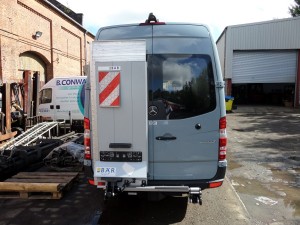 If you need free entrance into the rear of your panel van without operating the lift, but have the option to load and unload pallets or trolleys at any time the modern ingenious construction of the Ratcliff/Palfinger Barcargo BC600 A2V tail lift is the correct application for you.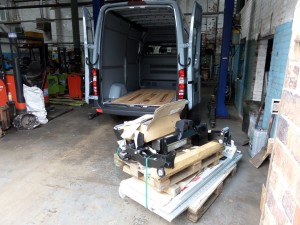 This tail lift can be fitted inside 12 hours without any internal or external body modifications.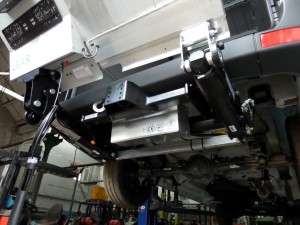 Bar cargo is setting the bench mark in the Van Lift Class with the optional extra tow bar application enabling the full use and payload of your vans capabilities.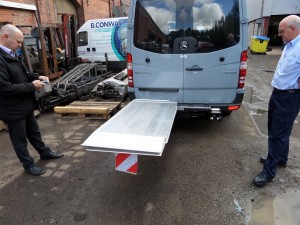 Opening and closing the platform hydraulically by the ''Smart Control' remote control stops the operator from potential finger hazards and further ensures operator Health & Safety.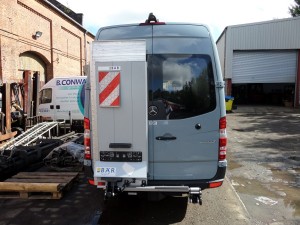 No need for after market registration plates and lights with this Tail Lift application as the BC600 A2V comes fully equipped to enable simple repositioning of the number plate.
Ensuring further safety measures the BC600 comes with an internal power switch which also doubles as a warning light should the operator not close the platform correctly or the platform opens whilst in transit.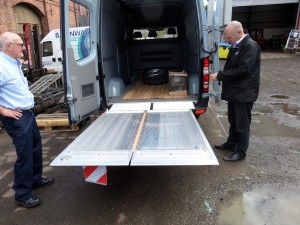 Once the platform is in the horizontal position the operator can easily open the platform thanks to the articulation of the unique hinge arrangement. (no protruding hinges)
Once the platform is open the surface area is big enough to take 4 x roll on trolleys or 1 x Euro pallet.
Big platform with trolley stops for up to 4 trolleys.

Trailer use with detachable ball coupling (option) possible.

Unimpeded loading space Van Bridge which is vertically fixed with two magnets.

Enough room on the platform for a Euro pallet and lift truck

Free access thanks to two-part platform

Smooth transition from vehicle to platform by a rubber hinge

Split trolley stops.

Counter-sunk flashing lights with LED technics

Prefitted number plate holder with lamps.

Power pack moves down with the lift ensuring  good accessibility for servicing

Cabin switch with warning feed-back signal

Radio-control units replaced installation of user-switches in the body. Emergency control (option), serial plug connection

Weight depending on lift spec and vehicle fitting kit is between 172kg and 216kg.
If you would like any further information regarding the Bär Cargolift BC600A2V Bär Van Lift, please contact us today.